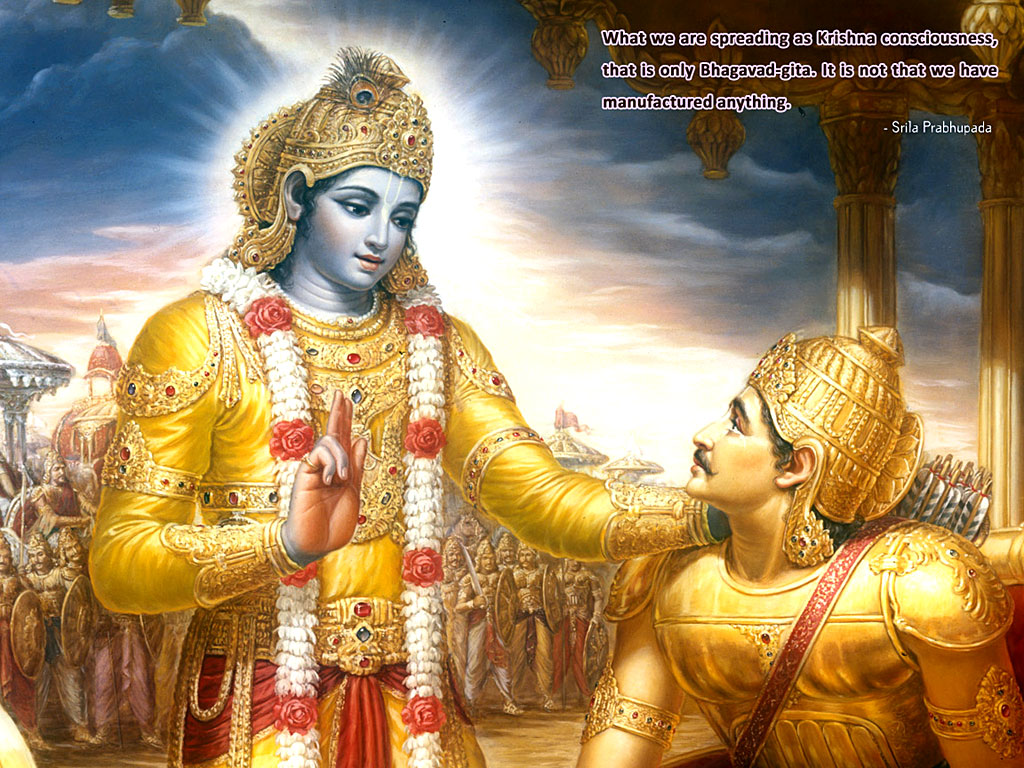 Bhagavad Gita is perhaps the single greatest scripture that is entirely a message from God, spoken directly by him as Lord Krishna to Warrior Arjuna in the form of 700 verses. It is a divine song, hence the name
Bhagavad Gita
. Many of the verses are replete with philosophy so abstruse for us that it requires none other than the Lord Himself to explain it in a easy to grasp method. So much so, Srimad Bhagavad Gita is now making its way into the motel rooms across USA as
Motel Gita
.
My cousin Ravi is an avid student of Bhagavad Gita. Under the spiritual guidance of his Guruji, he and his wife Vidya are distributing free copies of this scripture amongst the poor. They also distribute the other holy book
Srimad Bhagavatham
. For a while now, I actually wished to do a post on Bhagavad Gita as an acknowledgement of his charitable work as well as his abiding interest in it. I now have that blessed opportunity. Hey, if you are like his two inquisitive and intelligent sons Shreyas and Vivek, you would perhaps like to try this
Gita Quiz
first.
One organization that is so fervently promoting devotion to Lord Krishna is
ISKCON
. They have a web resource for their publications accessible to devotees called the
ISKCON Desire Tree.
. The founder of ISKCON, His Holiness Jagathacharya Srila A.C. Bhakti Vedanta Swami Prabhupada, is aptly famous for his widely sold book
Bhagavad Gita As It Is
. Click on the image to read the contents of the book.
I have put together some illustrated verses as a slide show and a sample video from the famous Hindi serial Mahabharath (only Bhagavad Gita), for your viewing pleasure: